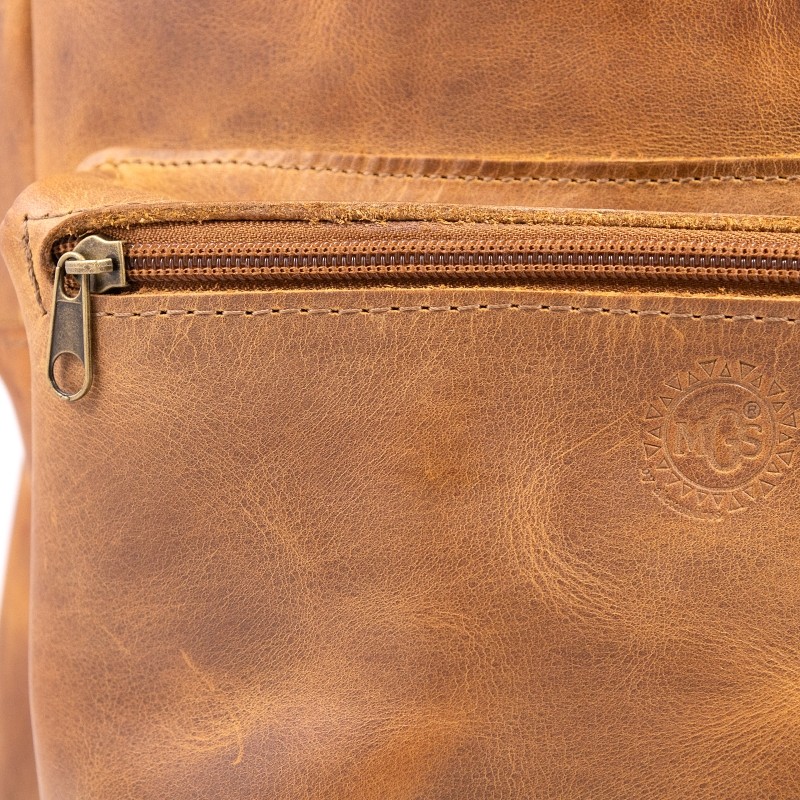 "Top quality Greek genuine leather, durable, with no chemical processing.
Designed and Handcrafted to order in Greece."
---
*Colours may appear slightly different in variable lighting situations.
TAMPA LEATHER BACKPACK MGS RETRO BACKPACK
Modern Greek Sandals
Mens Backpacks
AREAS/POCKETS
4
Strap
Ναι 2 Πλάτης
Backpack Color
Tampa
Backpack Material
Genuine Leather
Bag Length
32 cm
Bag Height
42cm
Bag Width
15cm
Backpack Volume
14,5 litres
Ένα τέλειο σακίδιο πλάτης από τήν Modern Greek Sandals® (MGS) φτιαγμένο από λαδερό δέρμα κορυφαίας ποιότητας. Αυτό καλύπτει όλες τις ανάγκες κάθε άνδρα που είναι διαρκώς σε κίνηση και είναι ιδανική επιλογή για τη δουλειά ή για ταξίδια.
Το εσωτερικό του προστατεύει πλήρως από φθορές το περιεχόμενο καθώς και τυχόν ευαίσθητες ηλεκτρονικές συσκευές όπως λάπτοπ ή κινητά.
Η μπροστινή τσέπη, η πίσω τσέπη με φερμουάρ όπως και οι υπόλοιπες θήκες κρατούν όλα τα αξεσουάρ σου τακτοποιημένα.
Το μεγάλο δερμάτινο πουγκάκι στο μπροστινό μέρος δίνει στο backpack έξτρα χώρο και πρακτική λειτουργικότητα. Μάλιστα, το σακίδιο πλάτης ομορφαίνει με τον καιρό και την πολυχρησία
. Αυτό το cool n' trendy backpack έχει σχεδιαστεί στη Ελλάδα από τη modern greek sandals
Για έως 15,6" (38,5x26,5x2,5 εκ.) laptops.